Digital Assistant for Vehicle Maintenance

Mobile App
2020
PROJECT OVERVIEW
What I Did
I began my exploration by collecting research on similar products and defining personas for Senzit Connect. From there, I created user journey maps and illustrated features we wanted to offer on the application. At the building stage, I simultaneously built the user interface under the Senzit connect brand and the O'Reilly Autoparts brand. Next, I worked with a partnering company to build out the application. Finally, during the pilot testing phase, I created user surveys to gain feedback from the first version releases to help improve future versions and gain insight into desired features.
Results
I completed my work on Senzit Connect after the pilot phase of testing and app development. The app's initial release was used by a handful of users, along with the OBD II ports plugged into the vehicles.
*this project was suspended in the pilot phase of testing
SENZIT CONNECT


At Mann + Hummel, I kickstarted an innovative app called Senzit Connect, a digital assistant for vehicle maintenance — a groundbreaking device designed to ease vehicle maintenance burden, especially for families with multiple cars. The plug-and-play device connects directly to OBD II ports, allowing users to monitor each vehicle's vitals through the Senzit Connect mobile app. Service reminders and check engine warnings push directly to the app, allowing your family's "Head of Maintenance" to receive instant notifications and address issues before they become costly repairs.



Senzit Connect

is for the Head of Maintenance (HoM), who is responsible for the maintenance of 1 or more vehicles in the fleet of a home/family, Senzit Connect is a digital application that provides the user insights into the maintenance of the partnered vehicles so that the user can conveniently understand the needs of the vehicles and maximize the cost efficiency and uptime of that vehicle.


Unlike FIXD, dash, or Spiffy our product allows the user to generate a custom maintenance schedule for their vehicles that will generate alerts when the customer is approaching the terminal point of the metric.




Personas
As a part of my initial study, I developed personas that helped me understand and capture realistic behaviors and find my target audience.

User Journey Maps
The user journey map helped me understand the users' experience and gauge their feelings and perceptions of the designed scenario. Creating problems and finding solutions opened my eyes to problem areas where I found angles for design intervention.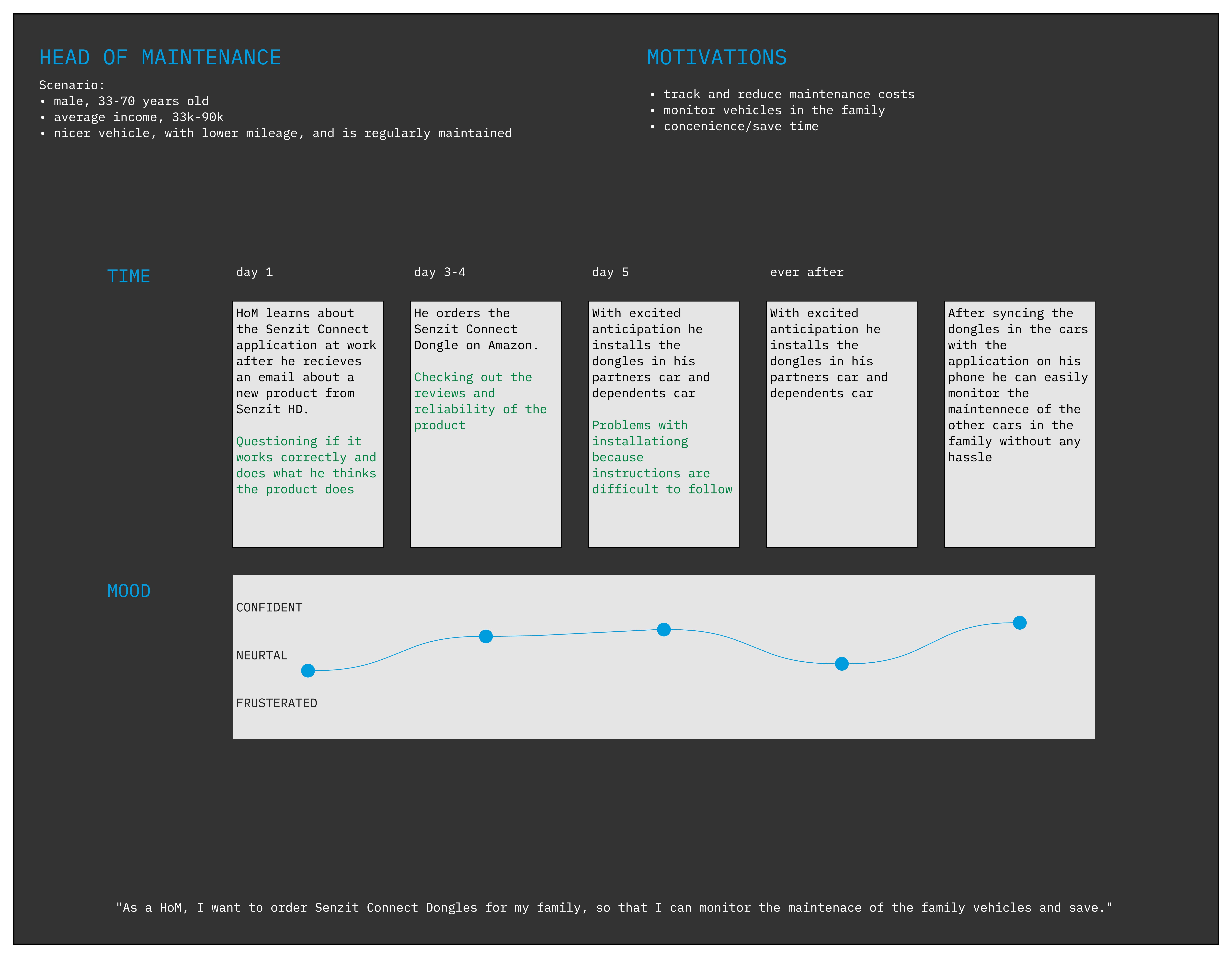 User Flow
I created user flows of the designed application to visualize the user's steps to achieve a meaningful goal. For instance, the onboarding process for our users is to install the OBD II port and sync it with the application.


Design Iterations
Throughout my process, I developed multiple iterations of screens, beginning with wireframes to the future vision of the product. This process continued through the pilot phase.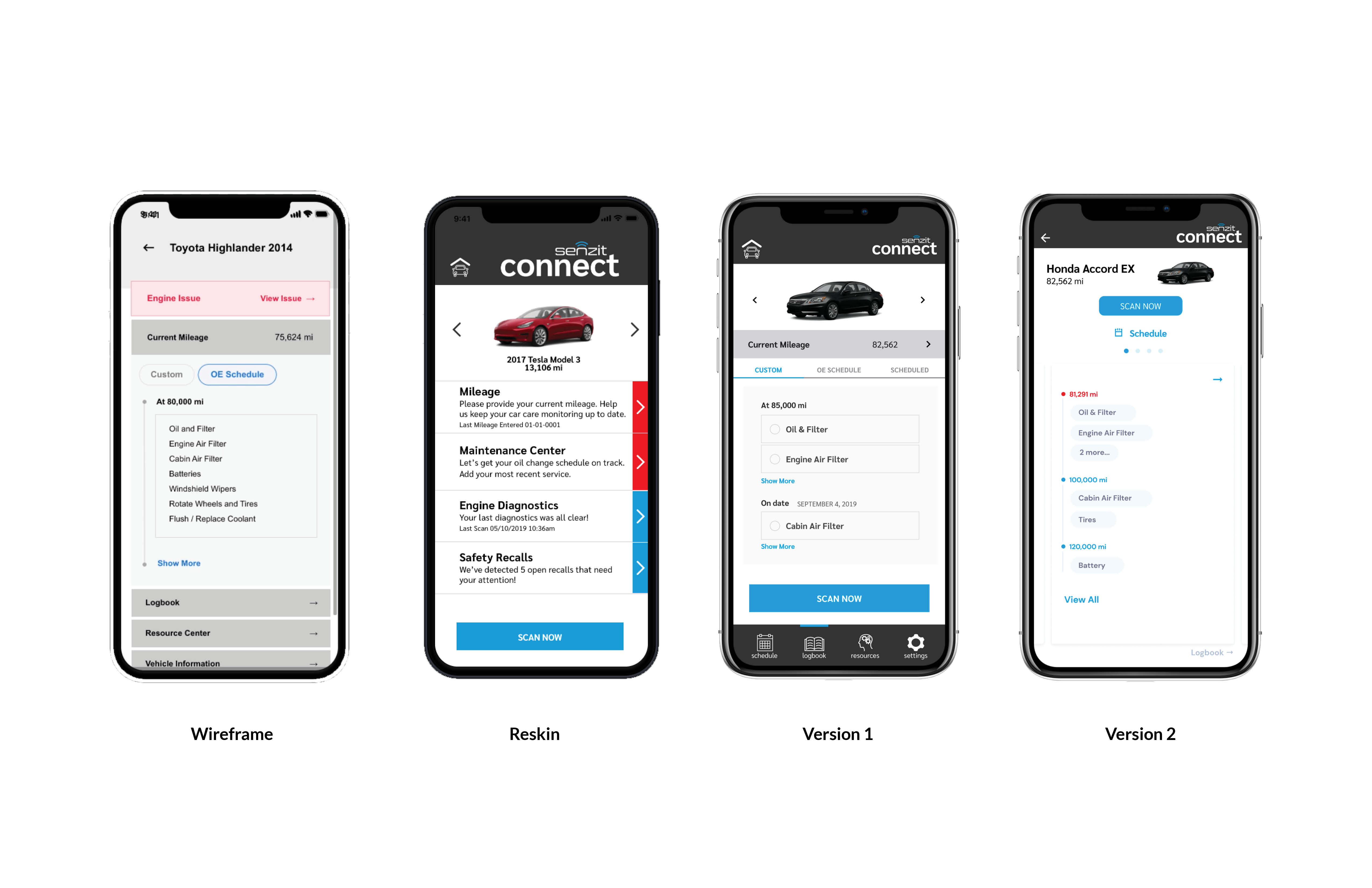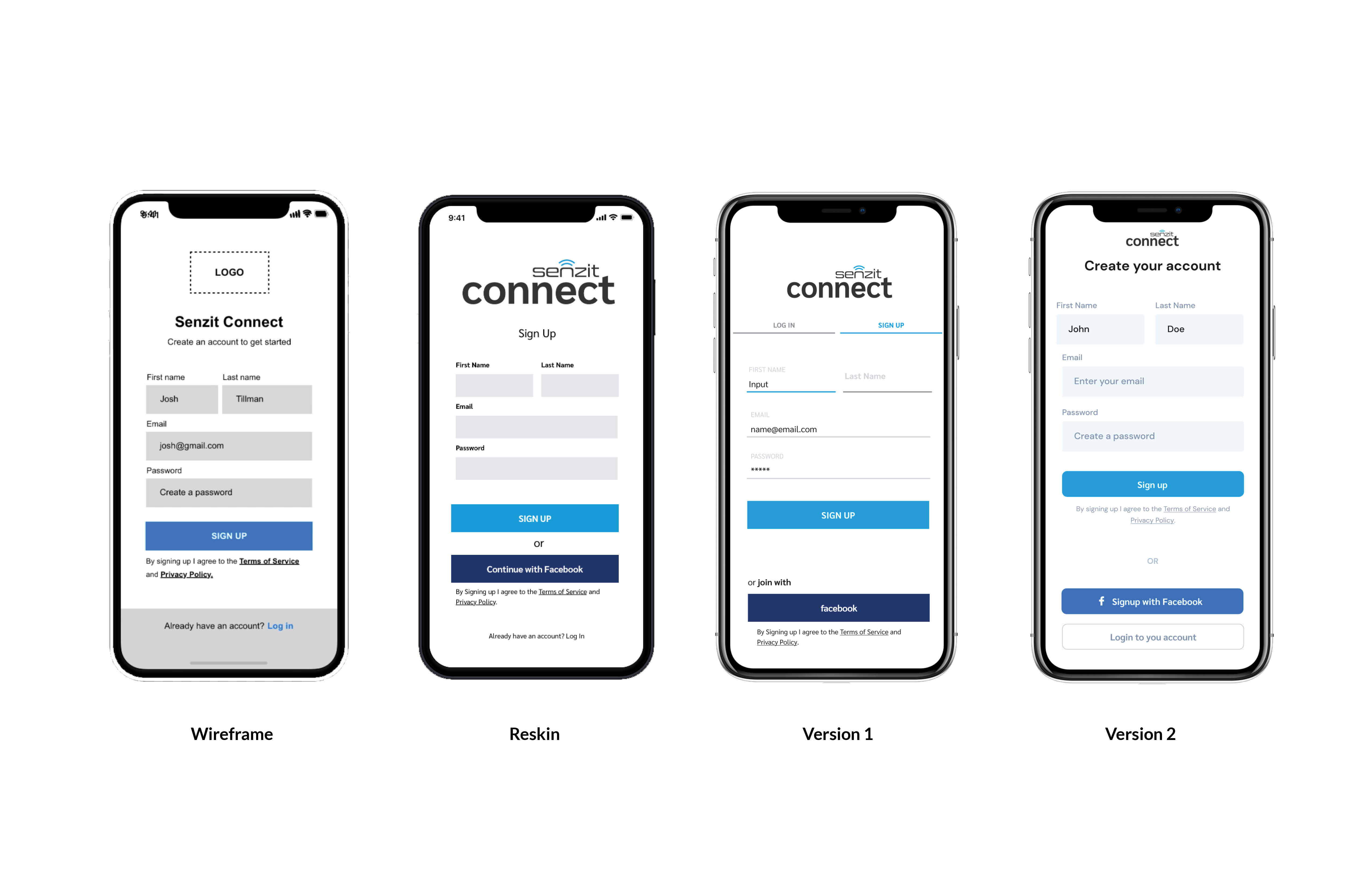 HANNAH FAUB PORTFOLIO
LAST UPDATED 2023