LOW-INCOME FINANCIAL SAVING APPLICATION for emergencies

Mobile App and Tangible Artifact
2019
PROJECT OVERVIEW
What We Did
After initial conversations with our project sponsors, we conducted phone interviews with credit unions and flowcharts. We mapped out interactions of how the user would interact with the artifact and how the artifact and app would communicate with each other. We also considered the security of how the banks would interact with the app.

Results
We presented our research and idea to the Center for Advanced Hindsight in addition to a prototype of the application, a 3-D model of our product, and a demo of how it would work in a real scenario.
---
Financial Saving Application
Objective
To explore the role design and design thinking can play in the context of behavioral science under the sponsorship of the Center for Advanced Hindsight from Duke University.

The Center for Advanced Hindsight is a behavioral science research group at Duke University specializing in applied health and financial decision-making research. Research from the Center and the behavioral sciences have demonstrated the importance of descriptive and injunctive norms in influencing behavior. Unfortunately, in the economic arena, very little positive financial behavior is visible, and instead, we see consumption behavior.

Collaborators: Michele de Souza and Aashna Patel

Our primary goal is to help people with low incomes save for emergencies
Our design goal is a tangible product with an application
We define low income as any household that makes under $50,000 a year.

Design Challenge: most households in the US and abroad are underprepared for an emergency. About 42% of Americans would sell something or borrow to cover $400 in unexpected expenses.


The product would be placed in your preferred vicinity, like a work desk, kitchen, bathroom, etc.
The screen will be divided as per the goals (2 long-term and three short-term). It will be represented in the same way on the app for the user to visualize their progress easily.
It has the following features:
"Coin" like sound when you tap on an image you intend to save
"Happy" sounds when you tap again after you have saved at the end of the day. If not, it becomes your goal for the next day.
The application would be downloaded on your phone and would be accessible anywhere.
There is an onboarding process where the user is prompted to create an account, link a bank account, and set long-term and short-term goals. *already setting aside a $400 emergency fund.
Features include setting reminders for saving goals, transferring money between goals, and visual timelines of goal progress.
The final deliverable of this project is a high-fidelity prototype of visible (and tangible) representations of savings to influence better descriptive and injunctive norms among low-income people living in the United States and Kenya.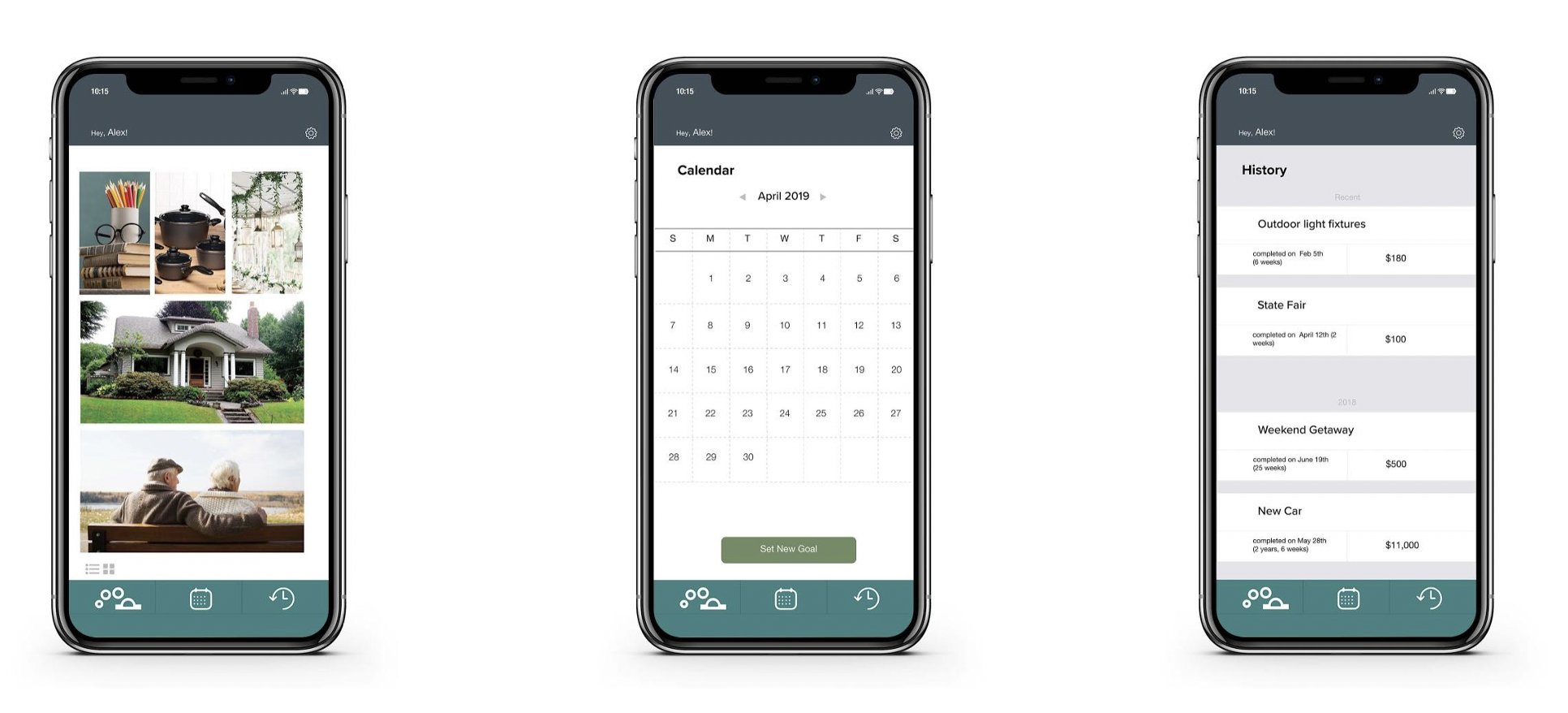 HANNAH FAUB PORTFOLIO
LAST UPDATED 2023