---
STORE AS HELPER

OBJECTIVE
To introduce machine learning into a retail space. The research question was: how might a retail space leverage machine learning to produce personalized, efficient, useful consumer interactions that allay to user concerns? What role would an employee play in supporting such positive experiences?
Collaborators: Randa Hadi, Harrison Lyman, Matthew Norton


Process
The process included different kinds of research including store observations and interviews, creating personas and scenarios, benchmarking other retail spaces, creating an AI hopes and fears matrix. We also made "as is" and "to be" User Journey Maps. From there we began sketching and creating storyboards of initial concepts. With the feedback from our sponsors, we made rough ideas and did conduct user testing and hi-fi prototypes that could then used in our scenario video.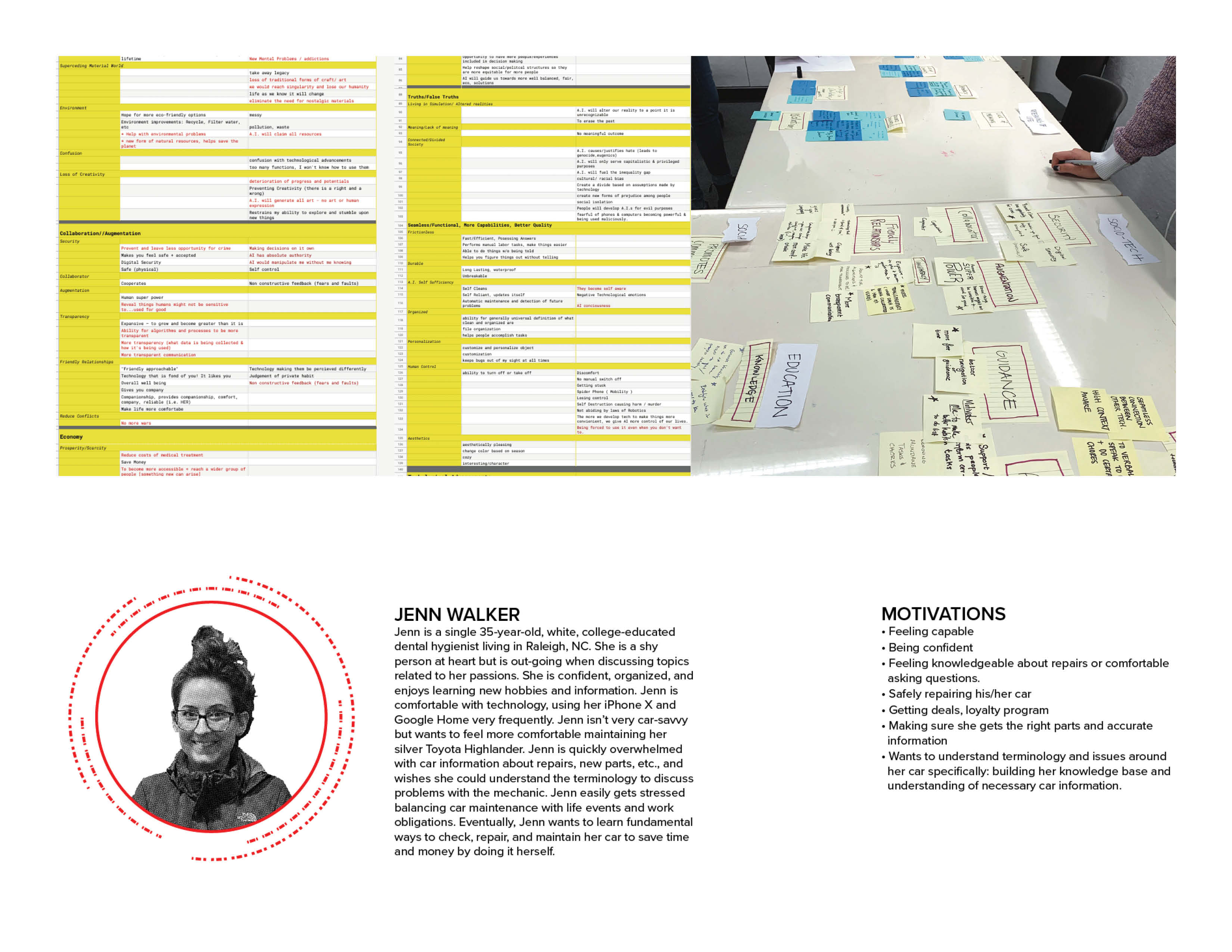 The store ecosystem includes: AUTO fasttrack, a smart guestbook, and a vehicle classifier

Jen realizes her battery has died just before she leaves for work. Luckily, her neighbor is home and jumps her car. Now, running late, Jenn hurries to the store for help replacing her battery. In the scenario video Jenn walks into the retail store only to notice that the employees are helping others. However, she sees the Fasttrack system welcoming her to check in, so she approaches it. The Fasttrack system uses facial recognition and it scans her face to retrieve her information. Jenn tells the system that she needs a new car battery and it adds her to the guestbook. The guestbook is used by team members to gather information and create a better experience.

---
AUTO adapts to the time of day and customers, which dictates the tone and content.
---
Using the asile screens, customers can converse with AUTO through thier browsing experience.
---
Customers can access AUTO accross the AAP ecosystem: website, mobile app, in-store, in-car
---
Cuustomers can commnicate with AUTO via voice interface or switch to text interface on their phone.
---
AUTO suggests purchases to the customer based on likely maintenance needs.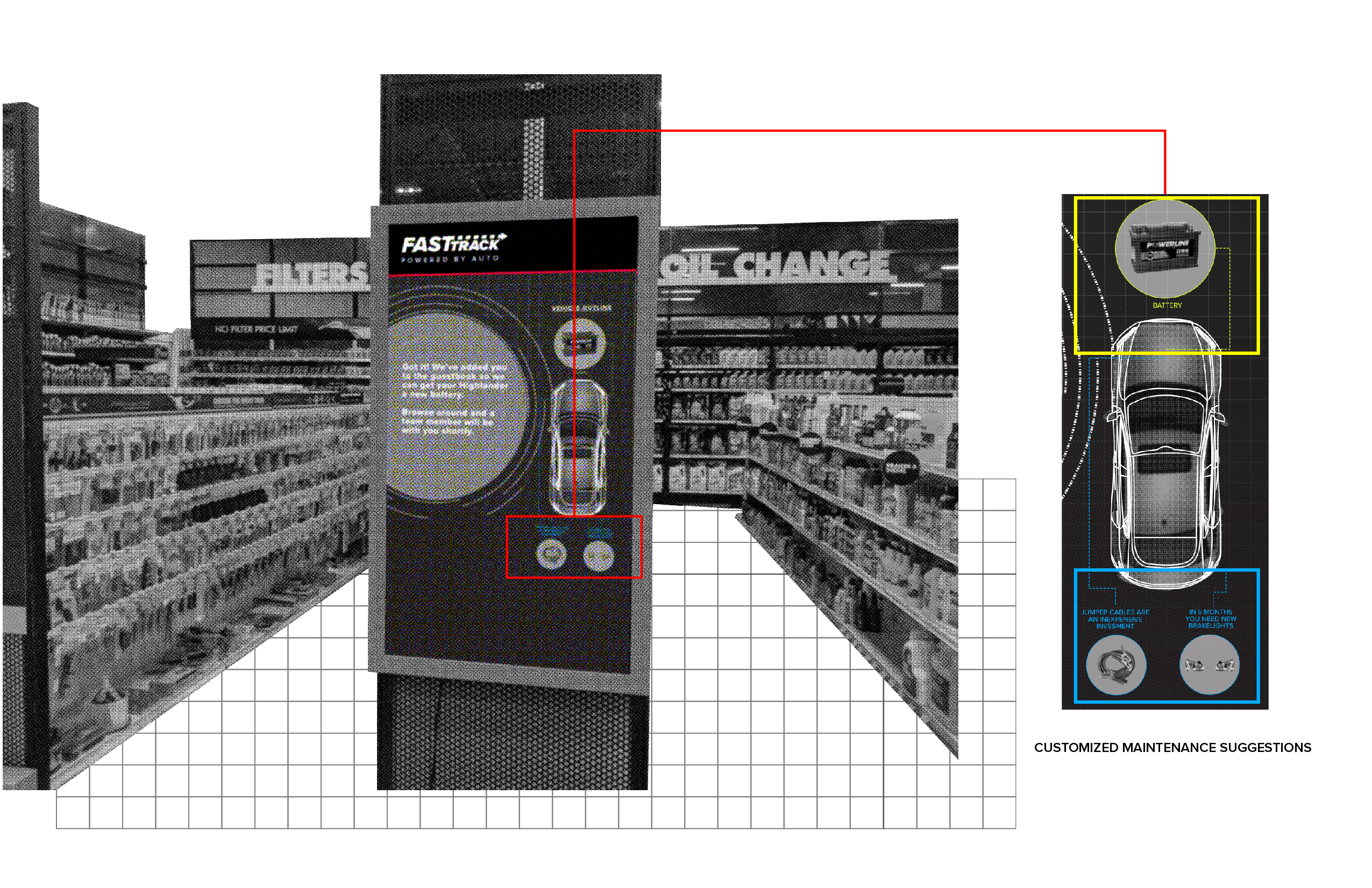 ---
Tablet-based guestbook communicates custoemr needs and vehicle info quickly to sales team, including smart predcictions.
The guestbook draws from big data to forsee potential automotive issues for each customer.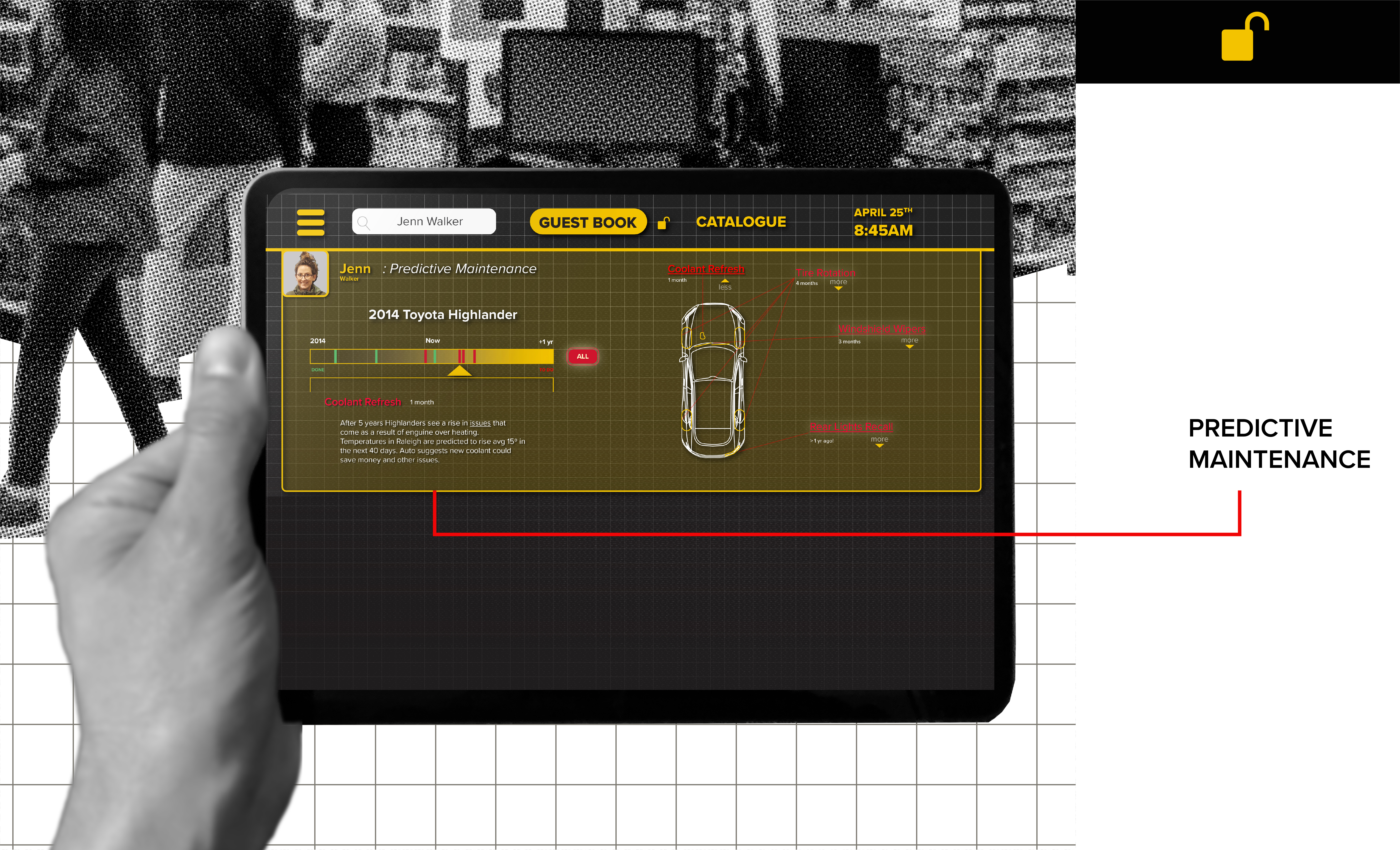 This video is an example of one of the ways a customer would interact with AUTO.
In this video, this is what the screen looks like when it is not assisting a customer.

Implications
Customers associate the store with expedited service in urgent situations.
Create a more meaningful, informed interaction with any team member.